BEAA TALK | NS
Featuring Architect and Partner, Jennifer Corson, of Solterre Design in Halifax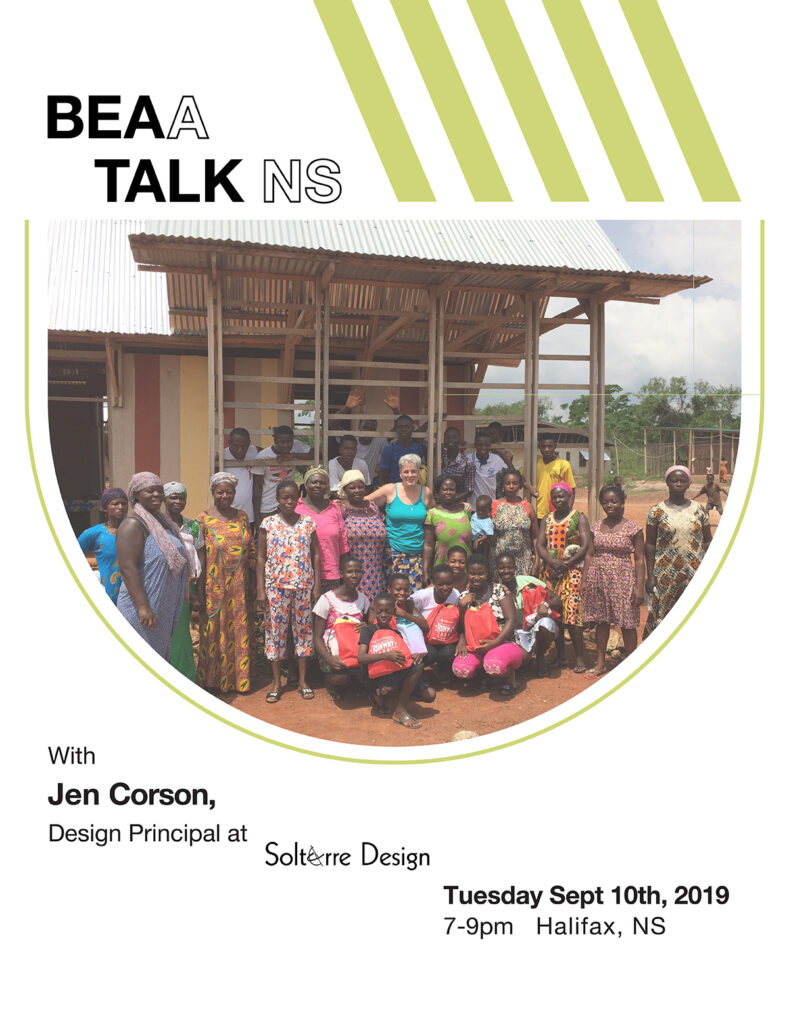 Community and Green Initiatives: Taking Entrepreneurial Risks in Architecture
This talk features award winning architect and partner at Solterre Design, Jennifer Corson, speaking on the opportunities which arise out of taking risks in an architectural career and in practice. Jennifer will focus on her architectural work in both Canada and Ghana, Africa, and how other entrepreneurial ventures have complemented her commitment to community building and sustainable design.
DISCUSSION SESSION:
Following the presentation there will be a discussion session focusing on opportunities which have arisen from different kinds of risks we take, whether calculated or not, in the management of our practices and design projects.
September 10th, 2019
Begin at 6:30pm for Tour of Solterre Design, 3008 Oxford Street, Suite 202
At 7pm join us at neighbouring Jaza Energy, 6437 Cork Street
Light refreshments will be provided by Solterre following the Talk and Discussion Session.
ALL ARE WELCOME TO ATTEND. THIS IS A FREE EVENT BUT SEATING IS LIMITED. RESERVE YOUR TICKET ON EVENBRITE.