Following in the footsteps of Building Equality in Architecture Toronto (BEAT), BEA Atlantic was publicly launched at the 2018 RAIC Festival in Saint John, New Brunswick by a team of dedicated architects and designers under the support and guidance of established architectural practitioners and BEAT founders.
BEAT is an independent organization dedicated to supporting equality and diversity in the profession of Architecture through advocacy, community engagement, supporting minorities in Architecture and professional development. We create events and web content to promote the advancement of women in the profession, and provide mentorship, networking and leadership opportunities.
Interested in playing a bigger role? Reach out at joinus@beaatlantic.com
---

Building Equality in Architecture Atlantic (BEA Atlantic) stands in solidarity with all who take action to support racial equality and equity.
 
Inequity (a lack of fairness and justice) in Atlantic Canada is evident in the missing racial diversity in the architectural profession. BEA Atlantic is committed to creating safe opportunities to connect, learn, and advocate for change. We believe that thoughtful design can work to dismantle systemic racism. Those of us who have the privilege to learn about racism without experiencing it directly, are committed to continued learning through active listening, reading, unlearning and formal education.
---
PAST EVENTS: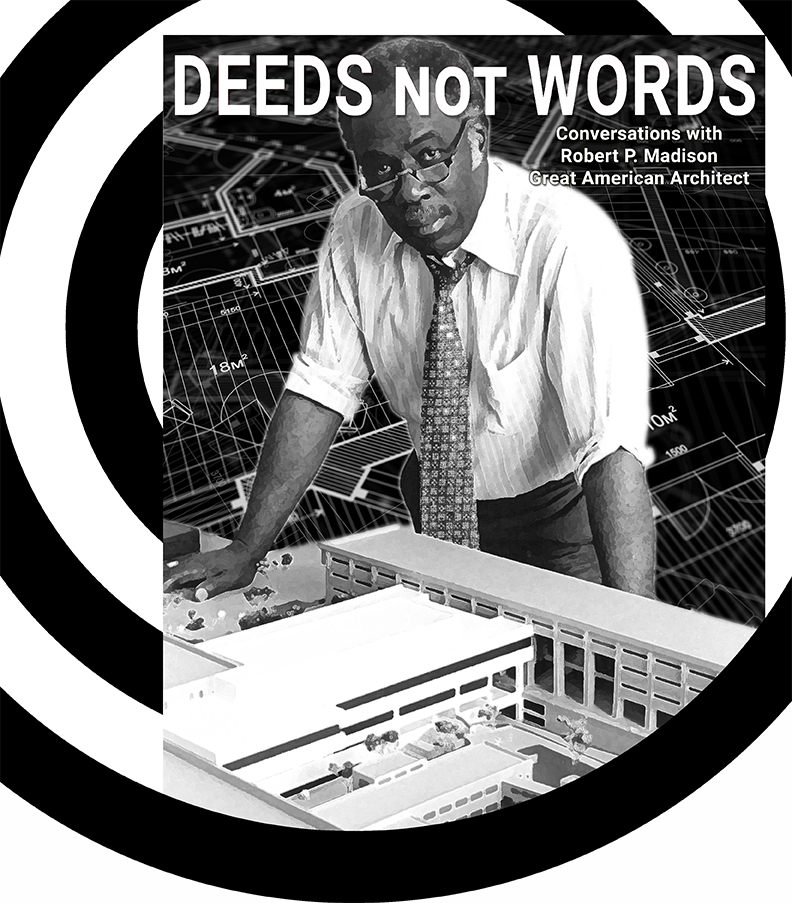 In association Equality in Architecture at Dalhousie University, the BEAA | NS Film Series is proud to present Derek E Morton's documentary film 'Deeds Not Words'. The screening will take place at Dalhousie University's School of Architecture in Halifax on Thursday, February 20th at 6pm. A panel discussion will follow.
A documentary film chronicling the life story of Robert P. Madison, preeminent architect, orator & patron of arts and humanities. This is a story about a man who has been instrumental in building Cleveland's new waterfront yet at one time was denied an opportunity to even apply to one of the city's schools of architecture.
Thank you to our BEAA | NS Film Series Launch Partners: with FBM Architecture and Interior Design, Architecture49, Solterre Design and Lydon Lynch Architects.
---
BEAA CONTINUING EDUCATION RETREAT: Thank you to our Sponsors and Attendees!
---
BEAA IDEAS AND STRATEGY SESSION
Join Building Equality in Architecture Atlantic in our first Ideas and Strategy Session! BEA is now a national movement with chapters across Canada, including all 4 Atlantic Canadian provinces. Come out to learn more about the organization, find out how to get involved, and help us shape the years to come for BEA in Atlantic Canada.
WHEN:      Saturday, November 16th from 2 – 4 pm
WHERE:    Nova Scotia Association of Architects Seminar Room 
                  1359 Barrington Street (Ground Floor), Halifax, NS
                  Accessible Entrance located on Bishop Street
At this meeting we will:
LOOK BACK: Testing the BEA model in Atlantic Canada. How has BEAA programming been received in our Atlantic Canadian communities? What are our unique challenges and opportunities striving for equality in architecture in Atlantic Canada?
LOOK FORWARD: Plan for the future of BEAA. How can we affect change in our industry? What kind of programming can we run in 2020 and moving forward? How will we structure our organization and committee? Who in our communities can we partner with to address specific challenges related to equality in architecture?
Let us know if you plan to attend by emailing joinus@beaatlantic.com
To join us by video conference email joinus@beaatlantic.com.
---
BEAA NL CHAPTER LAUNCH AND City Dreamers SCREENING

Building Equality in Architecture Atlantic, along with the Newfoundland and Labrador Association of Architects, is pleased to present CITY DREAMERS – a documentary film by Joseph Hillel. Acting as the official launch to the BEAA-NL Chapter, this event invites all interested persons to come take part in viewing this film brought to you by the APALA.
Join us in celebrating the extensive accomplishments of Phyllis Lambert, Blanche Lemco van Ginkel, Cornelia Hahn Oberlander & Denise Scott Brown; four trailblazers of architecture, urban planning and landscape architecture, while also participating in the initiative event for the Building Equality in Architecture Newfoundland and Labrador Chapter.
Through original interviews, archival material and stunning cinematography this films uncovers how strong these independent thinkers have shaped the cities we live and work in.
---
BEAA | FILM SERIES presents: City Dreamers in four Atlantic cities this coming fall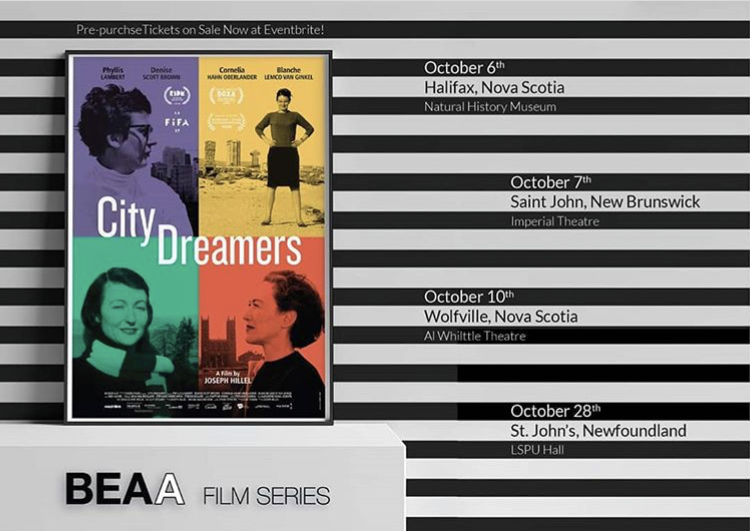 Halifax, NS – October 6th, 2019
Saint John, NB – October 7th, 2019
Wolfville, NS – October 10th, 2019
St. John's, NL – October 28th, 2019
ABOUT THE FILM:
Phyllis Lambert, Blanche Lemco van Ginkel, Cornelia Hahn Oberlander, Denise Scott Brown –
​four trailblazers who became accustomed to being the only woman in the room. Each has an extensive list of accomplishments in architecture, planning and landscape architecture dating back 60+ years and has taught, mentored and inspired generations of professionals. How have they envisioned our cities?
Through original interviews, archival material and stunning cinematography, documentary filmmaker Joseph Hillel uncovers how each of these strong, independent thinkers has shaped the cities we live and work in. As the world becomes increasingly urbanized, the insights of these forward-looking women who have built social and environmental values into their work seem more relevant now than ever.
---
BEA Atlantic is excited to present our first annual fall retreat weekend to be hosted at the Algonquin Resort in St. Andrews-by-the-Sea, New Brunswick, September 27-29th, 2019.
The retreat will offer an inclusive space for our region's members to connect, learn, and grow together.
Continuing education programming will form the backbone of the weekend dedicated to the cross pollination of knowledge and experience between peers and mentors. Education programming will include guest speakers, breakout sessions, panel discussions and architectural tours that will explore the multi-faceted concept of balance and architecture. The weekend's events will provide space to find inspiration in new places, establish collaborative relationships and partake in thoughtful conversation.
Registration will include Friday and Saturday night resort accommodations in the beautiful town of St-Andrews-by-the-sea luxury resort, continuing education sessions, speakers, walking tours, cocktail reception and meals (excludes Saturday night dinner).
More more information, including the retreat schedule and speaker's bio, view the BEAA Retreat Brochure here.
---
BEAA | TALK NS with Jennifer Corson, architect and partner at Solterre Design
Tuesday, 10 September 2019, 6:30 PM – 9:00 PM at Solterre Design
Community and Green Initiatives: Taking Entrepreneurial Risks in Architecture
This talk features award winning architect and partner at Solterre Design, Jennifer Corson, speaking on the opportunities which arise out of taking risks in an architectural career and in practice. Jennifer will focus on her architectural work in both Canada and Ghana, Africa, and how other entrepreneurial ventures have complemented her commitment to community building and sustainable design.
DISCUSSION SESSION: 
Following the presentation there will be a discussion session focusing on opportunities which have arisen from different kinds of risks we take, whether calculated or not, in the management of our practices and design projects.
Begin at 6:30pm for Tour of Solterre Design, 3008 Oxford Street, Suite 202. Then at 7pm join us at neighbouring Jaza Energy, 6437 Cork Street
Light refreshments will be provided by Solterre following the Talk and Discussion Session.
ALL ARE WELCOME TO ATTEND.
---
BEAA | PEI Chapter Launch
Friday, June 21st at the RiverShed in North Rustico, PEI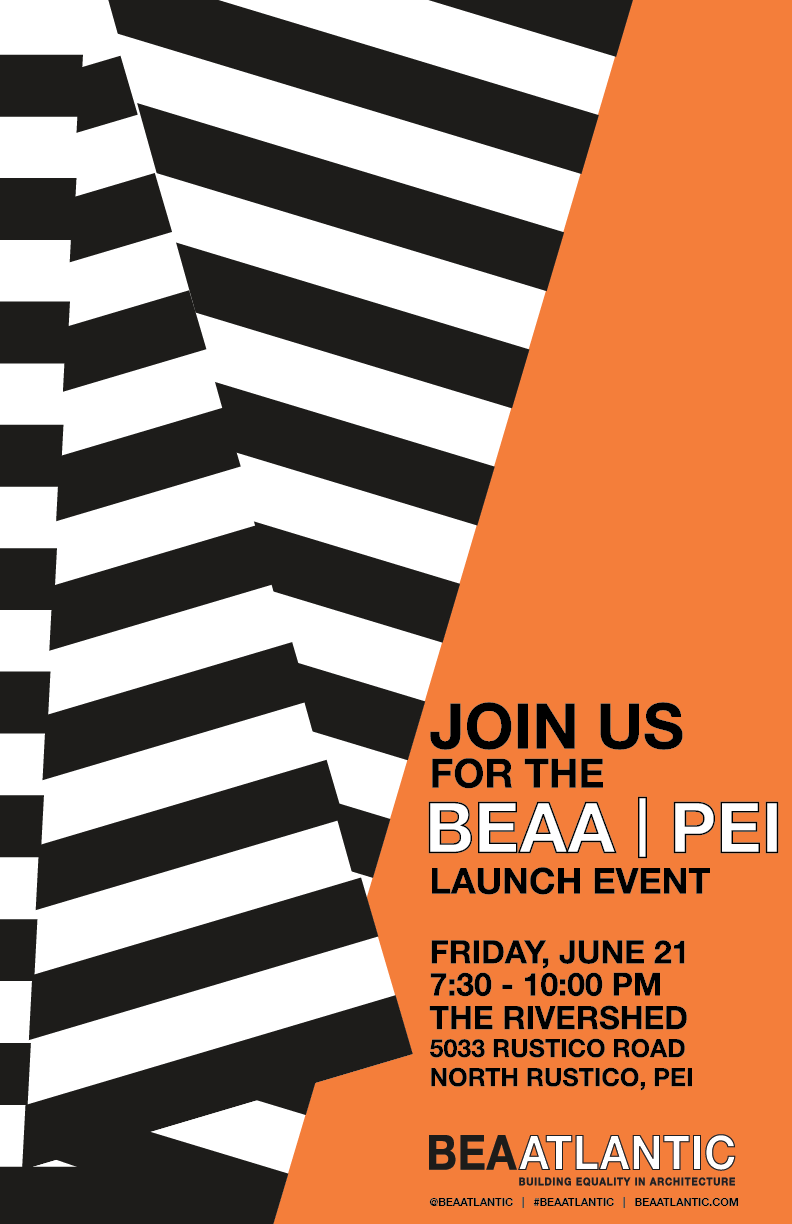 ---
BEAA Film Series NS presents Making Space
Thursday, May 30th from 5 to 6:15 p.m. at the Halifax Convention Centre.

On Thursday May 30th, BEAA's Nova Scotia Chapter launched their film series with the Nova Scotia Premiere of Making Space: 5 Women Changing the Face of Architecture. The event was part of the Nova Scotia Association of Architecture's annual Spring Forum and in conjunction with the Society for the Study of Architecture's 45th Annual Conference. The documentary film by Alice Shure, Janice Stanton and Ultan Guilfoyle focused around the careers of Annabelle Selldorf, Marianne McKenna, Kathryn Gustafson, Fashid Moussavi, and Odile Decq. BEAA thanks their film series sponsors, FBM Architecture and Design, Solterre Design, Lyndon Lynch Architects and Architecture49.
---
SEAC-SSAC Young Scholar's Pub Night:
Wednesday, May 29th from 9:00 p.m. at the Stubborn Goat in Halifax
The BEAA community is invited to join the SEAC-SSAC Young Scholars' Pub Night on Wednesday 29 May following the Alfred Waugh lecture. We will gather at 9pm for a social evening to connect and network with local professional, students, educators and members of our community.
Society for the Study of Architecture of Canada
Société pour L'étude de L'architecture au Canada
45th Annual Conference, Halifax Nova Scotia
May 28-31 2019
The Society for the Study of Architecture in Canada conference will feature an opening reception Tuesday evening, paper sessions Wednesday through Friday, tours, and a concluding banquet Friday evening. Several events are planned in cooperation with the "Spring Forum" of the Nova Scotia Association of Architects, including a public keynote lecture on Wednesday evening, and parallel paper sessions and panel discussions on Thursday. Doors Open Halifax follows on Saturday for those wanting further architectural tours.
Paper sessions and panel discussions will present work by researchers, professionals and students from all disciplines whose work relates to the built environment in Canada.
---
BEAA | TALK NS with Susan Fitzgerald of FBM architects:
Tuesday, March 19th, 2019 7:00 – 9:00 PM at FBM office in Halifax, NS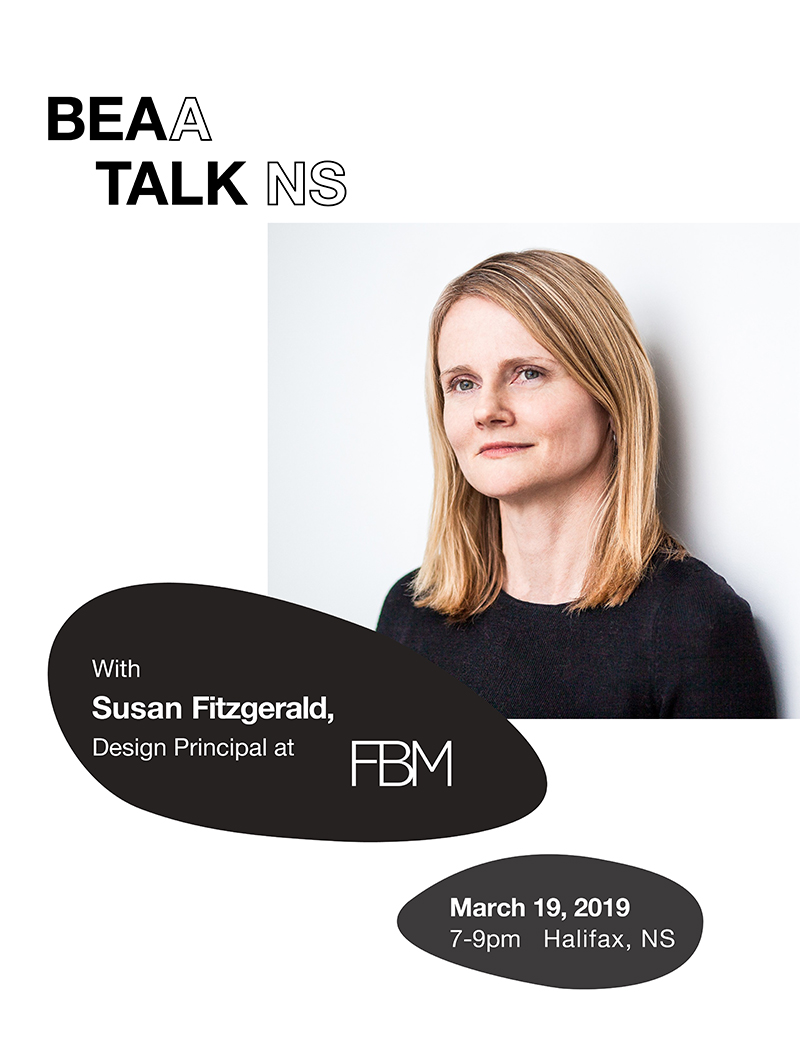 ---
BEAA | TALK NB with Melissa Wakefield of exp. architects:
Tuesday, February 19th, 2019 6:30 – 8:30 PM at the exp. offices in Saint John, NB
---
BEAA | NS Launch:
Thursday, January 17th, 2019 7:30 – 10:30 PM at 2 Crows Brewing Co, Halifax