THE BEAA FILM SERIES PRESENTS: CITY DREAMERS
Tickets are on sale now for screenings in Halifax, Saint John, Wolfville and St. John's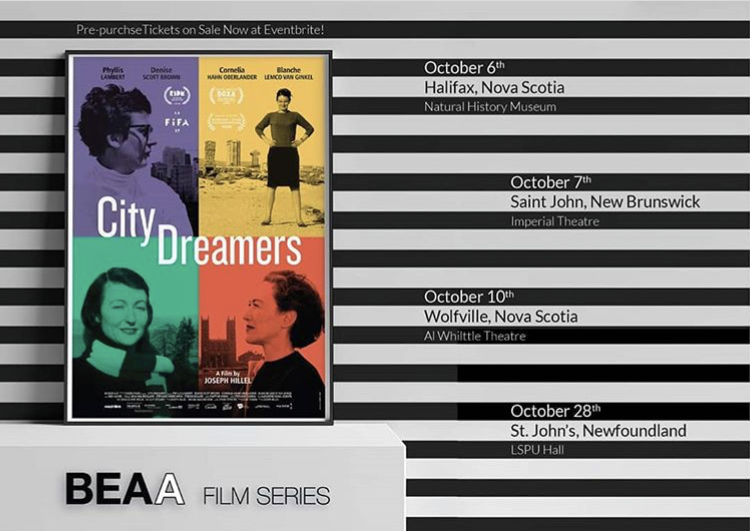 In association with the Atlantic Provinces Association of Landscape Architects, the BEAA Film Series is proud to bring the film 'City Dreamers' to four cities across Atlantic Canada this October.
Halifax, NS – October 6th, 2019, Natural History Museum, 7:00pm
Saint John, NB – October 7th, 2019, Imperial Theatre, 7:00pm
Wolfville, NS – October 10th, 2019, Al Whittle Theatre, 7:00pm
St. John's, NL – October 28th, 2019, LSPU Hall (free screening), 7:00pm
ABOUT THE FILM:
Phyllis Lambert, Blanche Lemco van Ginkel, Cornelia Hahn Oberlander, Denise Scott Brown –
​four trailblazers who became accustomed to being the only woman in the room. Each has an extensive list of accomplishments in architecture, planning and landscape architecture dating back 60+ years and has taught, mentored and inspired generations of professionals. How have they envisioned our cities?
Through original interviews, archival material and stunning cinematography, documentary filmmaker Joseph Hillel uncovers how each of these strong, independent thinkers has shaped the cities we live and work in. As the world becomes increasingly urbanized, the insights of these forward-looking women who have built social and environmental values into their work seem more relevant now than ever.